Dentist's Best
Hartz Cattraction with Silver Vine and Catnip® Bell Mouse™ Cat Toy
SKU: 3270011232
Features
Includes two sparkly mice, each with a compressed silver vine and catnip nose.
Lightweight toys are purrfect for your cat to carry, toss and bat.
Contains a natural, yet potent combination of silver vine and catnip.
Silver Vine is a vine that grows in the high mountainous regions of eastern Asia. It produces a natural and effective cat attractant that stimulates livelier play in more cats when compared to catnip alone.
Exercise your cat's natural instincts to explore and thrive in the world around them with toys that stimulate all of their natural play needs.
Non-toxic, natural and safe for cats of all ages.
Where To Buy
Product Description
Our Bell Mouse cat toy is perfect for batting around and chasing. This dynamic mice duo combines string,
rattles and bells to make playtime more fun.
Learning Center
training and play
Getting a new kitten isn't all fun and catnip. There are certain habits each pet parent must be willing to adopt so that the little balls of fur may thrive in their new environments.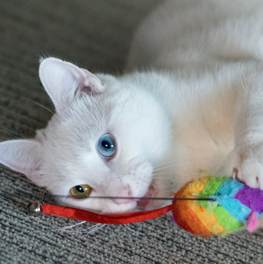 training and play | cats
Between hiding, chomping, or just getting bored with them, your cat can never have enough toys.
Cats
Other than sleeping and eating, play is a major part of a cat's life.