Features
A chew toy and treat all in one! Satisfy your dog's natural urge to chew while promoting the dental benefits of clean teeth and general oral health
Includes a multi-textured, durable chew toy ball on each end combined with an edible center for dogs 50-75 pounds
Long-lasting chew has a durable nylon shell combined with a tasty bacon flavored treat.
For mild to moderate chewers. Not recommended for aggressive or avid chewing
Where To Buy
Product Description
Your dog is hard-wired to chew, chew, chew. Encouraging this instinctual behavior by providing your canine companion with an appropriate chewing item can promote mental and emotional wellbeing along with dental benefits. The Hartz Chew 'n Clean Bounce & Bite is a long-lasting chew toy and treat all in one! It's constructed from durable materials that withstand mild to moderate chewing.
Enriched with a delicious, edible bacon flavored center and our DentaShield technology, the Bounce & Bite reduces new tartar formation by bonding with components in your dog's saliva. The chewing action from the multi-textured ball helps reduce tartar build-up, freshen breath and promote healthy gums.
Available in a variety of sizes and colors to suit every dog's needs. Remember to supervise your pup with any toy.
Related Articles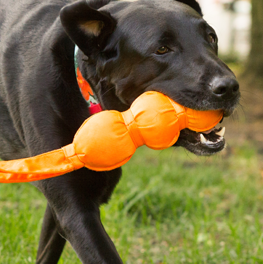 getting started | dogs
When you go to adopt your first dog, there are a few things you'll be leaving the animal shelter with. These include essentials like a leash and collar, as well as pet ID tags and perhaps a sleeve of tennis balls.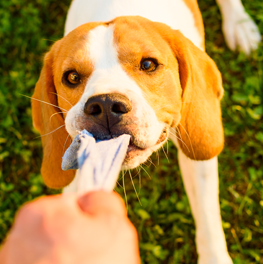 training and play | dogs
Games and play are a fun way to interact with your dog, but you need to play by the rules.
All dogs chew. But if it becomes excessive, you will need to train your dog to redirect his chewing.
Related Products
Description A favorite of dogs. These tennis balls are great for chasing, jumping, running, fetching,...
A chew toy and treat all in one! Satisfy your dog's natural urge to chew...
Description Introducing Chew 'n Clean® Bend-A-Bone™ toys. Now, our popular dental toy brand has a...