Features
Supplement and treat in one with essential nutrients including Glucosamine and Chondroitin to support healthy joints, cartilage, joint function, flexibility and strong bones
Includes 45 chicken flavored soft chews in a convenient, resealable bag
Soft and chewy texture is great for senior dogs or those with sensitive teeth
Proudly carries the Quality Seal from the National Animal Supplement Council
Where To Buy
Product Description
A treat and supplement all in one, Hartz Joint Health Soft Chews for Dogs are specially formulated with essential nutrients including Glucosamine and Chondroitin to support healthy joints, cartilage, joint function, flexibility and strong bones. Each delicious chicken flavored daily chew boasts a soft and chewy texture, making them easy for senior dogs and pups with sensitive teeth to enjoy. This product proudly carries the Quality Seal from the National Animal Supplement Council.
Related Articles
health and nutrition
If you've begun to notice that your dog has started to pack on the pounds around his or her midsection, you may be looking for ways to improve your pet's wellness regimen.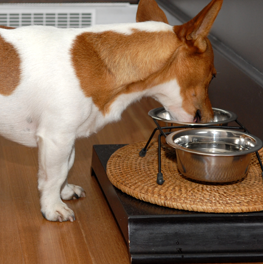 health & nutrition
It's important to feed your dog foods from all of the essential food groups on a daily basis.
health and nutrition
Joint problems can be trying for both you and your dog. Help your dog by knowing the signs and the treatments.
Related Products
2 oz nursing bottle has clear fill lines to ensure accurate feeding
Regular cow's milk does not provide the necessary proteins and fats required to nourish a...
Calming remedy and treat in one, formulated to help manage normal stress, support balanced behavior...