Features
Keep your playful cat captivated for hours with a combo of pawsome toys
Includes 6 balls, 3 pom-poms, 2 catnip mice, 1 catnip fish and 1 wand
Lightweight toys are purrfect for your cat to carry, toss and bat
Exercise your cat's natural instincts to explore and thrive in the world around them with toys that stimulate all of their natural play needs
Where To Buy
Product Description
13 toys, one pack, plenty of variety. Keep your playful cat captivated for hours with a combo of pawsome toys like sparkly pompoms, plush catnip mice and fish, roly-poly bell balls and a teaser wand. Purrfect for independent play and for pet parents who want to join in on the fun. Great for adding daily exercise to keep kitty active and to entertain multi-cat households.
Related Articles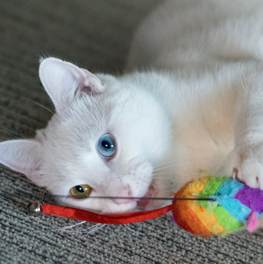 training and play
Between hiding, chomping, or just getting bored with them, your cat can never have enough toys.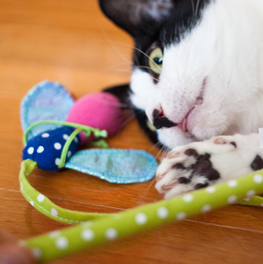 training and play
While it's hard to believe, the holiday season will soon be here, and most of us will have to adjust to life with frigid temperatures once again.
Related Products
Enticing assortment of premium cat toys that stimulate your feline's inner hunter!
Packed with plenty of ways to play, Animal Pal Kicker™ appeals to your cat's ancestral...
Catnip stimulates your favorite feline to encourage play and increase exercise to inspire even the...