Features
This dynamic duo combines two things cats love: mice and string
Includes 2 bright colored mice wrapped in premium rope with jingling bells at the tips of their tails
Lightweight toys are purrfect for your cat to carry, toss and bat
Exercise your cat's natural instincts to explore and thrive in the world around them with toys that stimulate all of their natural play needs
Where To Buy
Product Description
Jingling while they scamper and scurry across the floor, the Bell mice get playtime rolling. The colorful twosome are designed with attractive bright colors in a texture that entices curious kitties to scratch, bat and swat. Indulge their natural hunting and chasing tendencies with a toy that satisfies predatory hunting instincts and inspires even the most inactive cats to play on all paws.
Related Articles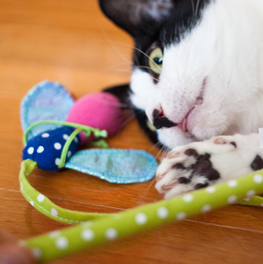 training and play
While it's hard to believe, the holiday season will soon be here, and most of us will have to adjust to life with frigid temperatures once again.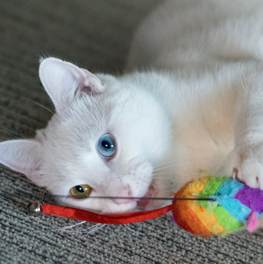 training and play
Between hiding, chomping, or just getting bored with them, your cat can never have enough toys.
Related Products
Simply dangle the bait, and even the most inactive furry fisherman will be up on...
Perfect for batting around, chasing, and hunting, Bizzy Balls encourage and stimulate your cat's natural...
Hartz® Catnip Leaves 'N Herbs™ contains aromatic, 100% pure catnip for ultimate enjoyment. This catnip...