Features
Simply dangle the bait, and even the most inactive furry fisherman will be up on all paws ready to swat and stalk
A sparkly, plush fish is attached to the end of a versatile wand that can be used to tease your cat for one-on-one play, or suctioned to most hard surfaces for solo fun
Keeps your cat pawsitively engaged with you for precious bonding time
Exercise your cat's natural instincts to explore and thrive in the world around them with toys that stimulate all of their natural play needs
Where To Buy
Product Description
Bait your hook and drop a line with the Hartz Gone Fishin' interactive cat toy wand. Get ready to tackle a subaquatic swimmer that's sure to become one of the greatest fishing stories ever told. A sparkly, plush fish is attached to the end of a versatile wand that can be used to tease your cat for one-on-one play, or suctioned to most hard surfaces for solo fun.
The elastic string causes erratic movement to hold your cat's attention and keeps them coming back for more pawsome action. Simply dangle the bait, and even the most inactive furry fisherman will be up on all paws ready to swat and stalk.
Happy cat fishing!
Related Articles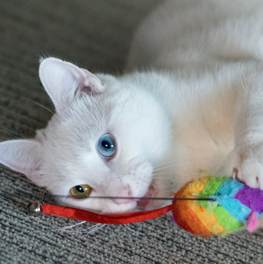 training and play
Between hiding, chomping, or just getting bored with them, your cat can never have enough toys.
health & nutrition
If you are a cat owner, you and your feline friend are most likely familiar with catnip.
Related Products
Enticing assortment of premium cat toys that stimulate your feline's inner hunter!
This dynamic character duo will make a super cute addition to your kitty's toy collection
Hartz® Catnip Leaves 'N Herbs™ contains aromatic, 100% pure catnip for ultimate enjoyment. This catnip...