Dentist's Best
Oinkies
Hartz® Oinkies® Stuffed with Peanut Butter Flavored Crunchy Middle - 5 Pack
SKU: 3270012152
Features
This long-lasting treat provides fun, chewing entertainment and irresistible flavors your dog will crave
Includes 8, five-inch long-lasting chews made of real pig skin. The treats are baked, smoked then baked again, and stuffed with crunchy peanut butter to boost the flavor factor
Contains no rawhide and is highly digestible
Check out all our varieties of Oinkies to twist up your pup's treat stash
Where To Buy
Product Description
Your dog is part of your family, which is why we've gone back to basics and developed a treat that's long-lasting and delicious. Oinkies are hand rolled from 100% real pig skin. And because they're rawhide free, Oinkies are highly digestible and satisfy your furry friend's innate instinct to chew. Twice baked and naturally smoked to achieve a savory flavor dogs go crazy for, the sound of the resealable bag will cause instant nose twitches and a bit of drool! This tasty pack contains 8, five-inch smoked pig skin twists that are stuffed with crunchy peanut butter flavor for an appetizing experience. Treat your canine companion to a chew you can feel good about feeding. Oinkies' signature twisted texture helps to reduce plaque and tartar build-up while dogs gnaw away. What's not to love?!
Related Articles
training and play | dogs
Whether you send your dog to school or train him at home, consistency is the key to good behavior.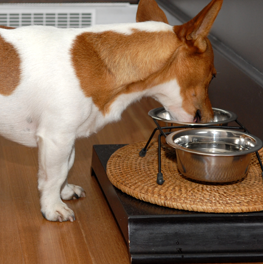 health and nutrition | dogs
It's important to feed your dog foods from all of the essential food groups on a daily basis.
Bad dog breath is a condition pet owners know well, especially those who've dealt with it before.
Related Products
This long-lasting treat provides fun, chewing entertainment and irresistible flavors your dog will crave
This long-lasting treat provides fun, chewing entertainment and irresistible flavors your dog will crave 
This long-lasting treat provides fun, chewing entertainment and irresistible flavors your dog will crave