Features
A necessity for any litter box, this litter scoop is ideal for all types of clumping litter
The sturdy plastic construction holds up scoop after scoop
Easy to wipe or spray clean
Ergonomic handle is user-friendly so it's easy to scoop and sift with a single motion
Where To Buy
Product Description
The Hartz Scooping/Clumping Litter Spoon is a necessity for sifting pet waste from any litter box and is ideal for all types of clumping litter. The sturdy plastic construction holds up scoop after scoop and is easy to wipe or spray clean. An ergonomic handle design is user-friendly so it's easy to scoop and sift with a single motion.
Related Articles
Training can be as simple as making inappropriate behavior unpleasant and appropriate behavior fun.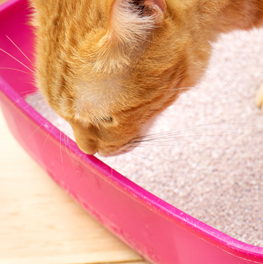 As you're learning how to housetrain a kitten, you know that location is key.
Related Products
Breakthrough technology eliminates cat urine odor on contact
Hartz® Fresh Scent™ Deodorizing Litter Beads add a boost of fresh scent when sprinkled onto...
A necessity for any litter box, this litter scoop is ideal for all types of...