Features
Durable dual functioning tug, toss and retrieve toy designed for interactive play between pet parent and dog
Crafted from strong ballistic nylon to withstand ruff play
Floppy tails offer plenty of tugging fun on both ends and are easy to grab and throw
Contains a squeaky ball inside to stimulate curiosity and excitement
Where To Buy
Product Description
Dogs need to play, and an epic game time session of classic fetch and tug never gets old! Expend your waggy one's endless energy with Hartz Tuff Stuff. Crafted from durable, ballistic nylon, the Fetch & Tug is made for ruff-housing with your best pal. The three floppy tails at each end add dynamic fun to playtime, making it easy to throw, toss and grab a hold of. The middle chamber contains a squeaky ball that will entice playful pups and cause instant excitement.
Related Articles
Keeping your dog's toys all together in a single place will make it easy for you to keep track of them. It will also make it easier to go through them on a regular basis and decide which need cleaning and which should be thrown away.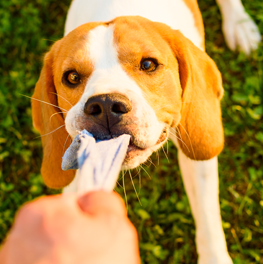 Games and play are a fun way to interact with your dog, but you need to play by the rules.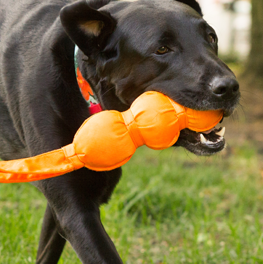 getting started | dogs
When you go to adopt your first dog, there are a few things you'll be leaving the animal shelter with. These include essentials like a leash and collar, as well as pet ID tags and perhaps a sleeve of tennis balls.
Related Products
Durable dual functioning tug, toss and retrieve toy designed for interactive play between pet parent...
Plush duck toy can be stuffed with treats to make playtime even more exciting
Kooky zoo characters make classic games of fetch more wild and bouncy