About
Clumping Paper Litter
Made from 80% recycled paper to reduce our ecological paw print, Clumping Paper Litter offers the same tight clumping and odor trapping power as traditional clay cat litter – but is 99% dust-free and 70% lighter!
When soiled, the paper pellets
turn blue so you can instantly
spot waste – and it won't stick
to the box or pan.
Featured Products
The first scoopable paper litter!
Multi-Cat strong litter instantly eliminates unpleasant odors with NODOR moisture-activated technology
Research
Hartz® Multi-Cat Strong® Clumping Clay litters contain a unique blend of premium bentonite clay that forms tight, firm clumps for simple scooping.
NODOR® technology in our clay litter varieties conquers unpleasant odors by eliminating stink on contact and releases a light, fresh scent that's kind to your nose.
Lifestyle
All Hartz® Multi-Cat Strong® litter varieties feature clumping action and is 99% dust free to leave a tidy environment, so your furry friend can be part of the clean paws club.
Learning Center
health and nutrition | cats
After you've adopted a cat and brought him home for the first time, getting him adapted to his new litter box can sometimes be a struggle.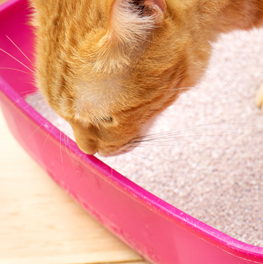 habitat | cats
As you're learning how to housetrain a kitten, you know that location is key.
habitat | cats
When it comes to folks who own two, three or even four cats, you may think that their homes can quickly devolve into a mess of fur and are tinged with the smell of kitty litter.