Features
Enchant your cat with a cuddly companion that's sure to magically spark energized play
Includes a 14 long plush unicorn (pink or purple design) adorned with a feathery tail, crinkly star-pattened body, ribbons, wispy rainbow mane and shimmery spiral horn
The elongated, contoured design promotes wrestling, kicking and hugging for extended periods of fun and exercise, while the stimulating features will raise whiskers
Contains a natural, yet potent combination of silver vine and catnip attractants to grab and hold your cat's attention for enhanced playtime
Silver Vine is a vine that grows in the high mountainous regions of eastern Asia. It produces a natural and effective cat attractant, that stimulates livelier play in more cats when compared to catnip alone
Exercise your cat's natural instincts to explore and thrive in the world around them with toys that stimulate all of their natural play needs
Where To Buy
Product Description
Encourage your cat to use her imagination with the Hartz Cattraction Unicorn Kicker Cat Toy. This cuddly companion has plenty of whimsical features to keep any folkish feline captivated for hours of thrilling play. Adorned with fluttery feathers, ribbons, a wispy rainbow mane, star patterned body and shimmery spiral horn, the Hartz Unicorn Kicker boasts an oversized plush design with plenty of curves and contours that promote wrestling, kicking and hugging for extended periods of fun and exercise.
Filled with a natural, yet potent combination of silver vine and catnip attractants, Hartz Kickers grab and hold your cat's attention. Durable canvas material withstands rigorous play from your tiny hunter, while maximizing the diffusion of attractants.
Related Articles
training and play | cats
When was the last time you could honestly say that you had a grip on your cat's body language?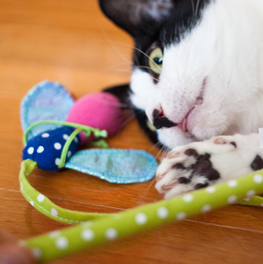 training and play | cats
While it's hard to believe, the holiday season will soon be here, and most of us will have to adjust to life with frigid temperatures once again.