Features
Dual purpose toy allows for pet parent and cat interaction like a traditional wand and also lets curious kitties chase and swat on their own
Includes a 24 inch flexible wand that bends easily to wrap around doorknobs, stair railings, chair armrests and anywhere else!
Attached plush mouse squeaks without batteries
Exercise your cat's natural instincts to explore and thrive in the world around them with toys that stimulate all of their natural play needs
Where To Buy
Product Description
The Hartz Just For Cats Bend-a-Wand will surely cast a spell on your curious kitty. The 24 inch wand has a flexible core encased in a durable material that can be twisted to wrap around doorknobs, chair armrests, stair railings or anywhere else. When pet parents want to join in on the fun, the wand can be made straight again to teasingly dangle the catnip-filled mouse. Like magic, the plush mouse squeaks when shaken, but requires no batteries at all! There's no doubt your furry friend will be mesmerized to come and chase.
Related Articles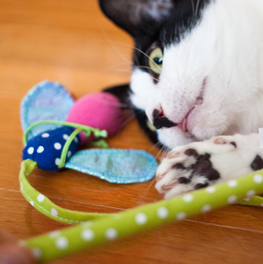 While it's hard to believe, the holiday season will soon be here, and most of us will have to adjust to life with frigid temperatures once again.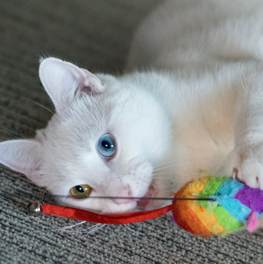 Between hiding, chomping, or just getting bored with them, your cat can never have enough toys.
Related Products
Perfect for batting around, chasing, and hunting, Bizzy Balls encourage and stimulate your cat's natural...
Soft, nuzzle worthy alligator head lays flat or is able to hang on doors and...
Enticing assortment of premium cat toys that stimulate your feline's inner hunter!