Features
Versatile cat toy satisfies your frisky feline's natural instincts and encourages play!
Soft, nuzzle worthy alligator head lays flat or is able to hang on doors and combines a scratching mat with curiosity enticing crinkle sounds and a catnip ball that's ready to be swatted
Measures 20 inches long
Exercise your cat's natural instincts to explore and thrive in the world around them with toys that stimulate all of their natural play needs
Where To Buy
Product Description
Bring the excitement of the wild outdoors into your home and watch your frisky feline wrangle the king of the everglades. The Just For Cats Gator Scratch is a versatile toy that satisfies your cat's natural instincts and encourages play. The textured, durable sisal material on the gator's back reinforces positive scratching behavior to keep nails healthy and muscles moving after a long nap. The loop at the base of the mouth allows for hanging on most doors to promote much needed stretching and rubbing to mark territory.
The soft, plush alligator head is animated with a friendly expression for those moments of comfort and security. Plus, a suspended, catnip filled ball finished off with a feather is just waiting for your furry friend to step up to bat. The stimulating crackling sound throughout the Gator Scratch arouses curiosity and will have your kitty coming back to explore. Later gator!
Related Articles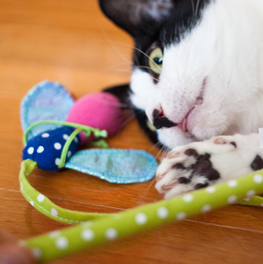 training and play | cats
While it's hard to believe, the holiday season will soon be here, and most of us will have to adjust to life with frigid temperatures once again.
training and play | cats
Between hiding, chomping, or just getting bored with them, your cat can never have enough toys.
Related Products
Lifelike bird plush features motion-activated chirping for a whole new level of fun and interaction
Exercise your cat's natural instincts to explore and thrive in the world around them with...
Soft, nuzzle worthy alligator head lays flat or is able to hang on doors and...