Features
Multiple swat toys promote exercise
Durable, enclosed bag provides a great hiding place and is crafted from "scrunchy" material cats love
Carpeted base for scratching to stretch claws
Exercise your cat's natural instincts to explore and thrive in the world around them with toys that stimulate all of their natural play needs
Where To Buy
Product Description
Designed to satisfy your cat's hiding play pattern, the Hartz Just for Cats Hide 'N Play Cat Toy is a complete activity center for indoor kitties that facilitates exercise and promotes wellbeing. This simple to setup toy features a durable scrunchy bag that makes an appealing sound to attract your curious cat.
Naturally driven to manipulate objects in their environment by using their paws, cats will enjoy the dangling toys, which help build and maintain coordination as well as promote exercise. Cats can also scratch on the carpeted base to help keep their nails fit and trim.
Related Articles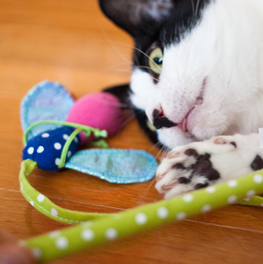 training and play | cats
While it's hard to believe, the holiday season will soon be here, and most of us will have to adjust to life with frigid temperatures once again.
training and play | cats
Between hiding, chomping, or just getting bored with them, your cat can never have enough toys.
Related Products
Packed with plenty of ways to play, Animal Pal Kicker™ appeals to your cat's ancestral...
Is your cat feeling 'grate'? They'll be even cheddar when playing with a toy that...
Contains a natural, yet potent combination of silver vine and catnip attractants to grab and...