Features
Is your cat feeling 'grate'? They'll be even cheddar when playing with a toy that combines the two things they love most: mice and catnip
This fearsome, furry 12 pack is no match for your clever kitty, who will love to stalk, chase and hunt each lifelike mouse that's perfectly sized for predatory play
Includes 12 bright colored mice packed with premium catnip
Lightweight and perfect for your cat to carry, toss and bat
Exercise your cat's natural instincts to explore and thrive in the world around them with toys that stimulate all of their natural play needs
Where To Buy
Product Description
Is your cat feeling 'grate'? They'll be even cheddar when you introduce Hartz Just for Cats Kitty Frenzy Mice to their toy stash. This furry 12 pack combines two things cats love most: mice and catnip. Each petite rodent is lightweight and perfect for your four-legged hunter to carry, toss, swat and bat, plus features bright colors, making them easy to find under furniture and in your cat's most occupied hiding places.
Related Articles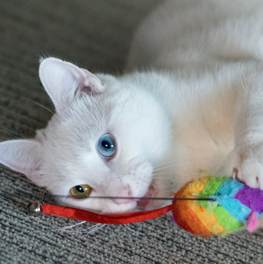 Between hiding, chomping, or just getting bored with them, your cat can never have enough toys.
With patience and practice, you can train your cat to become a world-class performer.
Related Products
Exercise your cat's natural instincts to explore and thrive in the world around them with...
Soft, nuzzle worthy alligator head lays flat or is able to hang on doors and...
Keep your playful cat captivated for hours with a combo of pawsome toys