Features
Breakthrough technology eliminates cat urine odor on contact
Includes 17 fluid ounces of clean scented litter odor eliminating solution in a convenient spray bottle
Won't clump litter!
Where To Buy
Product Description
Powered by Nodor®, our unique odor encapsulating technology, Hartz Cat Litter Spray completely eliminates cat urine smell on contact without clumping litter. Simply spray the clean scented solution liberally on any litter in-between periodic pan cleanings. The product surrounds odor molecules to stop them from emitting unpleasant urine odor.
Related Articles
health and nutrition | cats
After you've adopted a cat and brought him home for the first time, getting him adapted to his new litter box can sometimes be a struggle.
health and nutrtion
Your cat's odd behavior can be a sign of a serious condition that will require immediate veterinary care.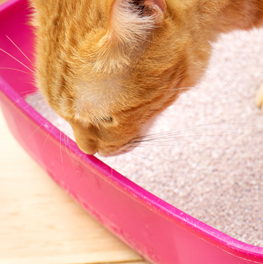 habitat | cats
As you're learning how to housetrain a kitten, you know that location is key.
Related Products
A necessity for any litter box, this litter scoop is ideal for all types of...
The first scoopable paper litter!
Sturdy plastic litter tray is purrfect for cats who don't like the confines of a...