Features
Specifically formulated to meet the nutritional needs and food preferences of pet rabbits
Includes 4 pounds of a nutritious blend in resealable packaging to protect the freshness and flavor of your pet's food; the zip-pak slider makes pouring and sealing a cinch.
Contains minerals for healthy bone development and a blend of wholesome pellets to keep teeth fit and satisfies your rabbit's need to chew
Treat your furry friend to a tasty and nutritious snack that adds healthy variety to their everyday diet. Look for Hartz Bonanza Treat Sticks (sold separately)
Where To Buy
Product Description
Hartz Small Animal Diet for Pet Rabbits is specifically formulated to meet the nutritional needs of pet rabbits. Our diet provides optimal levels of protein, fat and fiber to help your pet rabbit maintain a healthy weight and digestive system. To help your pet rabbit thrive, we fortified this diet with vitamins, minerals, antioxidants and omega fatty acids:
Contains
Vitamin A helps support eye, skin and immune system health.
Vitamin D helps your pet effectively use calcium and supports bone health.
Vitamin E acts as an antioxidant and helps maintain healthy cells.
Omega-3 fatty acids help support a healthy heart.
Omega-6 fatty acids help maintain healthy skin and a soft shiny coat.
Formulated for all breeds and sizes of pet rabbits.
Feeding Instructions
Feed ¼ to ½ cup in a clean bowl every day.
Adjust amount as needed to maintain proper weight.
Always provide clean, fresh water.
Tips
For best results when introducing a new food, begin with a mixture of current and new food to allow time for your pet to adjust to the transition.
Gradually increase the amount of new food for 7-10 days.
Store in a cool, dry place.
Related Articles
Make sure to follow nutrition guidelines to keep your small pet from developing a weight problem.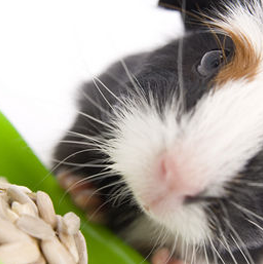 health & nutrition
Small animal diets are just as diverse as the individual species are.
health and nutrition
Is she sick or is this normal behavior?
Related Products
Specifically formulated to meet the nutritional needs and food preferences of hamsters, gerbils, mice and...
Specifically formulated to meet the nutritional needs and food preferences of guinea pigs
Specifically formulated to meet the nutritional needs and food preferences of hamsters and gerbils