Dentist's Best
Ultraguard
Hartz® UltraGuard Plus® Flea & Tick Collar with Reflect-X Shield® for Cats and Kittens
SKU: 3270004181
Features
Fresh scented
Kills and repels fleas, ticks, flea eggs and flea larvae, plus prevents flea eggs from hatching for 7 months. Can be worn simultaneously with your cat's regular collar
Reflective strip reflects direct light up to 450 feet for added visibility
Water-resistant design won't cause loss of effectiveness if your favorite feline takes a stroll in the rain
Features a breakaway, safety release snap
For use on adult cats and kittens 12 weeks of age and older
Where To Buy
Product Decription
Tell pesky parasites to 'bug off' with the Hartz UltraGuard Reflecting Flea & Tick Collar for Cats & Kittens. This fresh scented collar kills and repels fleas and ticks for 7 months. The water resistant design remains effective even after getting caught in the rain. A reflective strip also reflects direct light up to 450 feet for bonus visibility. Also features a breakaway safety release. For continuous cat parasite protection from head to tail, replace the collar every 7 months.
Remove collar from package, unroll and stretch to activate insecticide generator. Do not use on kittens under 12 weeks of age. Do not unroll collar until ready to use. Place the collar around the cat's neck, adjust for proper fit and buckle in place. The collar must be worn loosely to allow for growth of the cat and to permit the collar to move about the neck. Generally, a properly fitted collar is one that, when fastened, will snugly slide over the cat's head. Leave 2 or 3 inches on the collar for extra adjustment and cut off and dispose of the extra length.
Consult a veterinarian before using this product on debilitated, aged or medicated pets. Sensitivity may occur after using any pesticide product for pets. Some animals may become irritated by the collar if it is applied too tightly. If this occurs, loosen the collar. If irritation continues, remove the collar and bathe your cat with mild soap and rinse with large amount of water. If signs continue, consult a veterinarian immediately. Do not use this product on cats simultaneously or within 30 days before or after treatment of other flea and tick products. However, flea and tick collars may be replaced immediately.
Related Articles
training and play | cats
Training can be as simple as making inappropriate behavior unpleasant and appropriate behavior fun.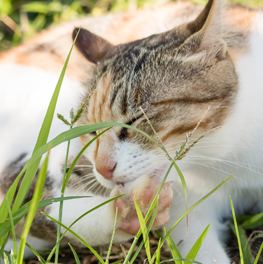 health & nutrition | cats
If fleas are on your cat, you can be sure that they are also in your home. There are three ways you can take fast action for flea control and prevention: immediate treatment, infestation control and infestation prevention.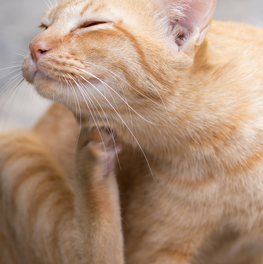 parasite protection
If you own a cat, you may experience a flea problem at some point. But what you don't know about fleas could harm you and your pet. Get the facts and keep your pet and home safe.
Related Products
Kills and repels fleas and ticks for 7 months. Can be worn simultaneously with your...
Includes 3 monthly treatments in easy to apply, single dose tubes
Fresh scented carpet powder kills fleas and ticks for up to 30 days, plus prevents...