Features
Stop dreading shedding with a revolutionary tool that removes 3 times more fur than brushing alone!
The perfect solution for seasonal changes and the most extreme year round shedders, it works by removing loose fur from the undercoat without harming the delicate skin and top coat
Fur Fetcher® ditches harsh metal blades and utilizes micro combs to make regular grooming enjoyable for your furry friend
The ergonomic handle is comfortable to use so you can spend more time pampering your pal and less time picking up after them
Satisfaction Guaranteed
Where To Buy
Product Description
As a pet parent, it's common to be floored by fur. Hundreds of wispy strands cling to anything they can grab hold of, and hairy tumbleweeds dance throughout your home, taking up residence in every nook and cranny. These are the indications that hours of endless vacuuming and sweeping have begun. If you feel like your pet is losing their fur faster than you can keep up with, it's time to break the cycle and stop dreading shedding.
The Hartz® Groomer's Best® Fur Fetcher® de-shedder tool for dogs boast a patented revolutionary design that removes 3 times more fur than brushing alone! The perfect solution for seasonal changes and the most extreme year round shedders, it works by removing loose fur from the undercoat without harming the delicate skin and top coat. Fur Fetcher® ditches harsh metal blades and utilizes micro combs to make regular grooming enjoyable for your furry friend. The ergonomic handle is comfortable to use so you can spend more time pampering your pal and less time picking up after them.
Related Articles
Coat care basics include brushing, bathing, regular inspections and a healthy diet.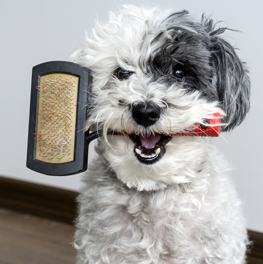 Grooming
With the right brush, your dog will enjoy a daily grooming session while looking good and staying healthy.
Related Products
Suitable for dogs of all ages and hair lengths, this super sudsy odor control solution...
Formulated to detangle, add shine and moisturizes the skin and coat with a quick spritz
Tell pesky parasites to "bug off" with extra-fine teeth that remove adult fleas, flea eggs...