Dentist's Best
Hartz Cattraction with Silver Vine & Catnip® Koi Dangler™ Cat Toy
SKU: 3270015784
Features
Simply dangle the bait, and even the most inactive furry fisherman will be up on all paws ready to swat and stalk
A vibrant, jingly plush koi fish (available in 2 colors) is attached to the end of a versatile wand that can be used to tease your cat for one-on-one play, or suctioned to most hard surfaces for solo fun
The elastic string causes a fun and erratic bouncing motion that entertains and entices cats into pouncing on the bait
Contains a natural, yet potent combination of silver vine and catnip attractants to grab and hold your cat's attention for enhanced playtime
Silver Vine is a vine that grows in the high mountainous regions of eastern Asia. It produces a natural and effective cat attractant, that stimulates livelier play in more cats when compared to catnip alone
Exercise your cat's natural instincts to explore and thrive in the world around them with toys that stimulate all of their natural play needs
Where To Buy
Product Descirption
Bait your hook and drop a line with the Koi Dangler™ interactive cat toy wand. Get ready to tackle a subaquatic swimmer that's sure to become one of the greatest fishing stories ever told. A sparkly, jingly plush koi fish is attached to the end of a versatile wand that can be used to tease your cat for one-on-one play, or suctioned to most hard surfaces for solo fun. The elastic string causes erratic movement to hold your cat's attention and keeps them coming back for more pawsome action.
Filled with a natural, yet potent combination of silver vine and catnip attractants, Hartz Koi Dangler grabs and holds your cat's attention. Simply dangle the bait, and even the most inactive furry fisherman will be up on all paws ready to swat and stalk. Happy cat fishing!
Related Articles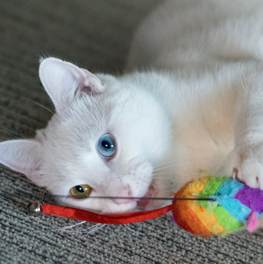 training and play | cats
Between hiding, chomping, or just getting bored with them, your cat can never have enough toys.
getting started | cats
When was the last time you could honestly say that you had a grip on your cat's body language?