Features
Is your cat feeling 'grate'? They'll be even cheddar when playing with a toy that combines the two things they love most: mice and catnip
Includes a roly-poly mouse toy with a rattling, scratch-worthy sisal body with enticing brightly colored strings and feathers and a cuddly catnip-filled plush
Lightweight toys are purrfect for your cat to carry, toss and bat
Variety of fun textures will pawsitively awaken Kitty's curious side
Exercise your cat's natural instincts to explore and thrive in the world around them with toys that stimulate all of their natural play needs
Where To Buy
Product Description
Your purrfect prowler will have a ball with the Hartz Just for Cats Roll About Mouse. This rampant rodent is a plush cat toy with a sisal body and feathery colorful tail. Cats will love watching this critter roll when swatted and chasing after the flighty feathers.
Related Articles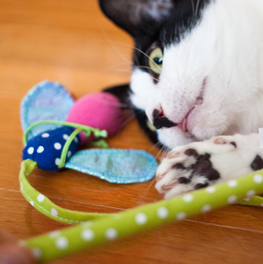 training and play | cats
While it's hard to believe, the holiday season will soon be here, and most of us will have to adjust to life with frigid temperatures once again.
health and nutrition | cats
If you are a cat owner, you and your feline friend are most likely familiar with catnip.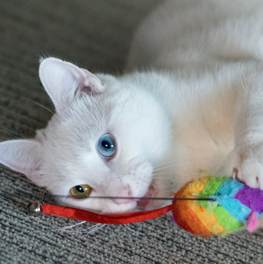 training and play | cats
Between hiding, chomping, or just getting bored with them, your cat can never have enough toys.
Related Products
Lifelike bird plush features motion-activated chirping for a whole new level of fun and interaction
Exercise your cat's natural instincts to explore and thrive in the world around them with...
One-step assembly pop-up tent is purrfect for Kitty to hide, lounge, scratch and nap in