Features
The first scoopable paper litter!
An astonishing 70% lighter than clumping clay litters, making it easy to lift and pour
Forms tight odor-absorbing clumps to instantly trap stinky smells
Clumps turn blue when soiled and won't stick to the litter pan, making cleanup a breeze
Eco-friendly product is made from 80% recycled paper and is 99% dust-free
Where To Buy
Product Description
Environmentally friendly, lightweight and multi-cat strong, Hartz has created the likeable litter pet parents have been searching for. Clumping Paper Litter is made from 80% recycled paper to reduce our ecological paw print and offers the same tight clumping and odor trapping power as traditional clay – but is 99% dust-free and 70% lighter! This product is easy to lift and pour and is able to handle the business of multiple cats. When soiled, the paper pellets turn blue so you can instantly spot the mess and it won't stick to the box or pan. We've put in the technology to help you spend less time on mess. How purrfect is that?
Features
The first scoopable paper litter!
An astonishing 70% lighter than clumping clay litters, making it easy to lift and pour
Forms tight odor-absorbing clumps to instantly trap stinky smells
Clumps turn blue when soiled and won't stick to the litter pan, making cleanup a breeze
Eco-friendly product is made from 80% recycled paper and is 99% dust-free
Related Articles
health and nutrition | cats
After you've adopted a cat and brought him home for the first time, getting him adapted to his new litter box can sometimes be a struggle.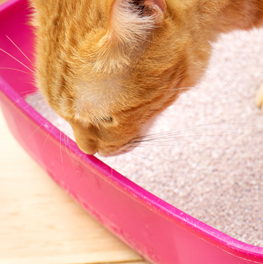 habitat | cats
As you're learning how to housetrain a kitten, you know that location is key.
training and play | cats
At some point, almost every cat owner experiences this common problem: your perfectly litter-trained cat suddenly stops using the litterbox.