About
Your dog is hard-wired to chew, chew, chew. Encouraging this instinctual behavior by providing your canine companion with an appropriate chewing item from the Hartz® Chew n' Clean® line can promote mental and emotional wellbeing along with dental benefits from chewing.
Featured Products
A chew toy and treat all in one! Satisfy your dog's natural urge to chew...
A chew toy and treat all in one! Satisfy your dog's natural urge to chew...
Play Patterns
Just like humans, dogs like to play in different ways, and we as pet parents are attuned to their needs. Hartz® has extensively researched and identified four primary play patterns: Toss & Retrieve, Tug, Chew and Comfort & Security. Some dogs may have one favorite way of playing, others alternate among several types of play. However, you decide to incorporate play into your dog's daily routine, Hartz has created the perfect toy to get Fido's tail wagging!
Research
Each Chew n' Clean® toy is designed for cleansing and tooth-scraping abilities. Enriched with tempting bacon scent or flavor, our unique Tuff Bone®, Dental Duo®, Bounce & Bite® and Twisty Bone™ entice dogs to exert their need to chew, while helping keep teeth and gums clean and strong while reducing the build-up of plaque and tartar.
Cleaning your dog's teeth frequently and keeping an eye out for dental problems are simple steps you can take to keep your dog healthy.
health and nutrition
Your dog's teeth and gums reflect and contribute to his overall health.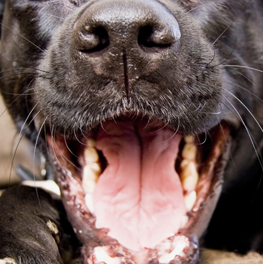 health and nutrition
Oral disease is the number one health problem diagnosed in dogs.