Features
Exterior is made of smooth, natural latex for durability; interior consists of a unique foam technology for a chewier bouncier toy with an irresistible squeaker
Perfect for outdoor interactive fun but also enticing for independent play
Contains a squeaker and is bacon scented to get your furry friend playing on all four paws
Easy to clean and floats in water
This 7 inch wide disc is available in three vibrant colors (green, orange and pink )
Where To Buy
Product Description
Dura Play now comes in a new disc shape perfect for games of fetch. Made with durable natural latex that is gentle on teeth and gums, and can withstand hours of outdoor fun for you and your pup. Our classic and unique foam technology enhances durability and allows the disc to float in water making beach trips more exciting. Unlike standard discs, the Dura Play Disc has a squeaker and is bacon-scented. The disc's vibrant color makes it easy to find when playing outdoors or inside. The smooth grooves also make it easier for pups to catch. It is perfect for medium to large dogs of all ages.
Related Articles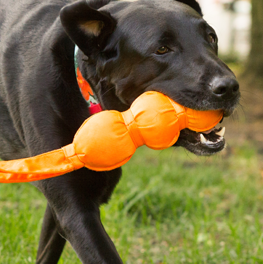 getting started | dogs
When you go to adopt your first dog, there are a few things you'll be leaving the animal shelter with. These include essentials like a leash and collar, as well as pet ID tags and perhaps a sleeve of tennis balls.
Keeping your dog's toys all together in a single place will make it easy for you to keep track of them. It will also make it easier to go through them on a regular basis and decide which need cleaning and which should be thrown away.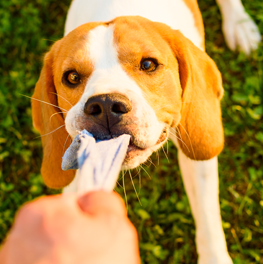 training and play | dogs
Games and play are a fun way to interact with your dog, but you need to play by the rules.
Related Products
Satisfy your dog's natural urge to chew while promoting the dental benefits of clean teeth...
Description Introducing Chew 'n Clean® Bend-A-Bone™ toys. Now, our popular dental toy brand has a...
Squeakable, colorful, vintage-inspired toy is great for chewing, chasing, fetching and ruff-housing