Features
The dumbbell design allows dogs to easily grasp the toy in their mouths on both ends
Constructed from heavy-duty cotton rope that evenly distributes stress from tugging and chewing
The ball's tough latex shell and foam filling with nubby ridges make for a desirable chew
Lightweight design is ideal for on-demand games of tug and fetch between pet parent and pup. Game on!
Bacon-scented to entice even the most inactive dogs to play on all four paws
Where To Buy
Product Description
The Hartz Dura Play brand is made even more fun and interactive with the Tug of Fun line extension of toys. The dumbbell's tough latex shell and foam filling with nubby ridges make for a desirable chew, while the sturdy rope running through the toy offers enjoyable hours of tugging and tossing. The dumbbell design allows dogs to easily grasp the toy in their mouths on both ends. Pet parent and pup will enjoy endless hours of tug and fetch action! This toy is bacon-scented too, enticing even the most inactive dogs to play on all four paws.
Related Articles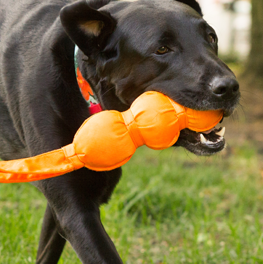 getting started | dogs
When you go to adopt your first dog, there are a few things you'll be leaving the animal shelter with. These include essentials like a leash and collar, as well as pet ID tags and perhaps a sleeve of tennis balls.
training & play | dogs
Back to work or school after the long summer? What are you going to do with your pooch?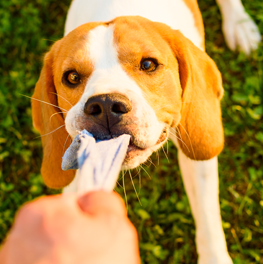 training and play | dogs
Games and play are a fun way to interact with your dog, but you need to play by the rules.
Related Products
Lifelike and loveable woodland animal plush toys each feature an interactive squeaker for a whole...
Plush animal design is soft and cuddly with a squeaker hidden inside
Description Made from ballistic nylon, they are durable and made for strong play and chew....