Features
Developed with pawfessional groomers for everyday de-shedding, detangling and removing small mats on cats of all coat types
Features two brushes and grooming actions in one! One side contains stainless steel tips with a protective coating to remove lose hair and detangle coat; the other side has dense nylon bristles to redistribute natural oils for a healthy, shiny coat.
Ergonomically designed handle allows for maximum comfort and control
Satisfaction Guaranteed
Where To Buy
Product Description
As a pet parent, it's common to be floored by fur. Hundreds of wispy strands cling to anything they can grab hold of, and hairy tumbleweeds dance throughout your home, taking up residence in every nook and cranny. These are the indications that hours of endless vacuuming and sweeping have begun.
If you feel like your pet is losing their fur faster than you can keep up with, it's time to break the cycle and stop dreading shedding. The Hartz Groomer's Best Small Combo Brush is developed with pawfessional groomers to truly be the cat's meow. The fine stainless steel tips one on side feature a protective coating so they effectively and gently grab loose hair and excess fur while detangling and removing mats. The dense bristles on the reverse side help to distribute natural oils that keep your pet's coat healthy and shiny.
Your pet will enjoy being pampered to keep them looking and feeling their best.
Related Articles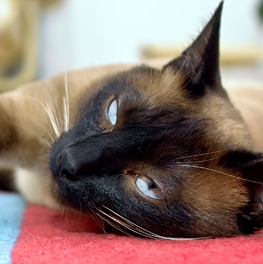 grooming | cats
Proper brushing will result in fewer hairballs and less matting.
Cats do a decent job of grooming themselves, but there are a few occasions when a bath is in order.
health and nutrition
Shedding is a natural, healthy process in all cats, in which they shed in order to remove dead hair which can cause skin irritation.
Related Products
Stop dreading shedding with a revolutionary tool that removes 3 times more fur than brushing...
Developed with pawfessional groomers for everyday de-shedding, detangling and removing small mats on cats and...