About
Silver Vine is a vine that grows in the high, mountainous regions of eastern Asia. It produces a natural and effective cat attractant that stimulates livelier play in more cats when compared to catnip alone.
Featured Products
Enchant your cat with a cuddly companion that's sure to magically spark energized play
This dynamic character duo will make a super cute addition to your kitty's toy collection
Contains a natural, yet potent combination of silver vine and catnip attractants to grab and...
Lifestyle
Exercise your cat's natural instincts to explore and thrive in the world around them with toys that stimulate all of their natural play needs.
Learning Center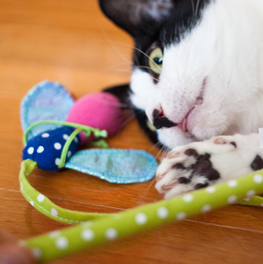 training and play
While it's hard to believe, the holiday season will soon be here, and most of us will have to adjust to life with frigid temperatures once again.
training and play
Between hiding, chomping, or just getting bored with them, your cat can never have enough toys.
training and play
Not all plants produce smells that are loved by cats, but silver vine does. Why exactly cats love these smells is still a big mystery. Hartz has silver vine questions and answers.