Features
Packed with plenty of ways to play, Animal Pal Kicker™ appeals to your cat's ancestral desire to hunt and capture prey by sky or by sea
Includes a 15 inch long plush character (bird or shark design) adorned with a feathery tail, crinkly body, ribbons, strings and a little bling!
The elongated, contoured design promotes wrestling, kicking and hugging for extended periods of fun and exercise, while the stimulating features will raise whiskers
Contains a natural, yet potent combination of silver vine and catnip attractants to grab and hold your cat's attention for enhanced playtime
Silver Vine is a vine that grows in the high mountainous regions of eastern Asia. It produces a natural and effective cat attractant, that stimulates livelier play in more cats when compared to catnip alone
Exercise your cat's natural instincts to explore and thrive in the world around them with toys that stimulate all of their natural play needs
Where To Buy
Product Description
By sky or by sea, start playtime off on the right paw with the Animal Pal Kicker™. Each irresistible character is outfitted with everything cats love: fluttery feathers, dangly ribbons, tantalizing string and a bit of eye-catching bling. This oversized plush toy has plenty of curves and contours that promote wrestling, kicking and hugging for extended periods of fun and exercise, while the stimulating features raise whiskers.
Filled with a natural, yet potent combination of silver vine and catnip attractants, Hartz Kickers grab and hold your cat's attention. Durable canvas material withstands rigorous play from your tiny hunter, while maximizing the diffusion of attractants.
Learning Center
health & nutrition | cats
Cats need proteins, fats, carbs, water, vitamins and minerals to stay in shape.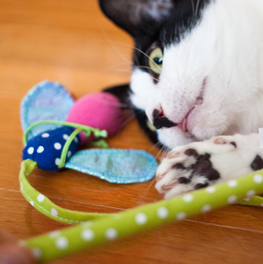 training and play | cats
While it's hard to believe, the holiday season will soon be here, and most of us will have to adjust to life with frigid temperatures once again.
training and play | cats
When was the last time you could honestly say that you had a grip on your cat's body language?