Features
Enticing assortment of premium cat toys that stimulate your feline's inner hunter!
Includes an extendable wand with suction cup, catnip filled plush toys that are attachable to the wand, fun light-up balls, feathered swat toys, rattling roller toy with feathers and a plush mouse connected to a bell ball by string
Purrfect for households with multiple cats
Exercise your cat's natural instincts to explore and thrive in the world around them with toys that stimulate all of their natural play needs
Where To Buy
Product Description
Awaken the hunter within your feisty feline as they stalk and swat like their big cat ancestors. The Just For Cats Super Hunters Toy Variety Pack offers many ways to engage your playful kitty. Interact and bond with your cat using the extendable wand and attachable catnip filled plush toys. Feathered toys, rollers and balls stimulate their natural, healthy hunting and swatting instincts. Delightful light-up balls keep your cat captivated and curious.
Each premium toy has been developed to satisfy the innate behaviors your cat has inherited from their wild ancestors.
Related Articles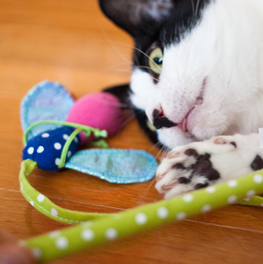 training and play | cats
While it's hard to believe, the holiday season will soon be here, and most of us will have to adjust to life with frigid temperatures once again.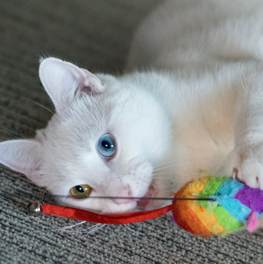 training and play | cats
Between hiding, chomping, or just getting bored with them, your cat can never have enough toys.
Related Products
Soft, nuzzle worthy alligator head lays flat or is able to hang on doors and...
Perfect for batting around, chasing, and hunting, Bizzy Balls encourage and stimulate your cat's natural...
This soft little critter shakes and vibrates across the floor, just daring your cat to...