Features
Perfect for batting around, chasing, and hunting, Bizzy Balls encourage and stimulate your cat's natural playful instincts
Includes 3 colorful balls with textured surfaces for erratic rolling to entice chase
Each ball includes a bell to keep your cat engaged while you share in hours of playtime
Exercise your cat's natural instincts to explore and thrive in the world around them with toys that stimulate all of their natural play needs
Where To Buy
Product Description
Your cat's day will become more exciting and exercise filled with the Hartz Bizzy Balls. This trio of colorful roly-polies boasts textured surfaces for erratic rolling to entice chase. Each ball contains a jingling bell to keep your cat engaged during solo or interactive play. An enriching activity to keep playtime rolling, Bizzy Balls are great for multi-cat households.
Related Articles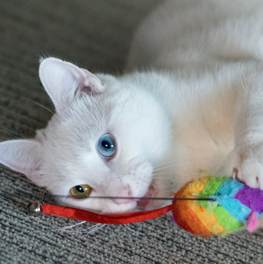 training and play | cats
Between hiding, chomping, or just getting bored with them, your cat can never have enough toys.
training and play
Getting a new kitten isn't all fun and catnip. There are certain habits each pet parent must be willing to adopt so that the little balls of fur may thrive in their new environments.
Related Products
This dynamic duo combines two things cats love: mice and string
Catnip stimulates your favorite feline to encourage play and increase exercise to inspire even the...
Keep your playful cat captivated for hours with a combo of pawsome toys