Features
Is your cat feeling 'grate'? They'll be even cheddar when playing with a toy that combines the two things they love most: mice and catnip
This fearsome, furry 5 pack is no match for your clever kitty, who will love to stalk, chase and hunt each lifelike mouse that's perfectly sized for predatory play
Includes 5 petite black and white mice packed with premium catnip
Lightweight and perfect for your cat to carry, toss and bat
Exercise your cat's natural instincts to explore and thrive in the world around them with toys that stimulate all of their natural play needs
Where To Buy
Product Description
Is your cat feeling 'grate'? They'll be even cheddar when you introduce Hartz Just for Cats Mini Mice to their toy stash. This furry 5 pack combines two things cats love most: mice and catnip. Each petite rodent is lightweight and perfect for your four-legged hunter to carry, toss, swat and bat.
Related Articles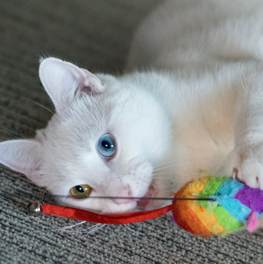 training and play
Between hiding, chomping, or just getting bored with them, your cat can never have enough toys.
training and play
Not all cats respond to catnip, but those that do, exhibit a boundless joy.
Related Products
Your cat will get a terrific buzz from this swarm of friendly fliers that are...
Simply dangle the bait, and even the most inactive furry fisherman will be up on...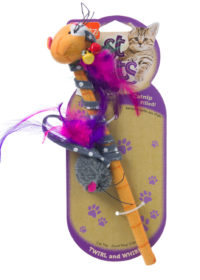 Your kitty companion won't be able to resist the urge to pounce when they spot...