Features
Perfect for batting around and chasing Midnight Crazies encourage and stimulate your cat's natural playful instincts
Includes 3 colorful balls with textured surfaces for erratic rolling to entice chase
Each ball includes a bell to keep your cat engaged while you share in hours of playtime
Lightweight toys are purrfect for your cat to carry, toss and bat
Exercise your cat's natural instincts to explore and thrive in the world around them with toys that stimulate all of their natural play needs
Where To Buy
Product Description
Get playtime rolling with Hartz Midnight Crazies. Offering your kitty companion hours of entertainment, each lightweight, colorful ball is sized just right for cats and is purrfect for carrying, tossing and batting. Your cat's day will become more exciting and exercise-filled when these roly-polies are let loose. Each boasts a textured surface for erratic rolling to entice chase, and contains a jingling bell to keep your cat engaged during solo or interactive play. Great for multi-cat households.
Related Articles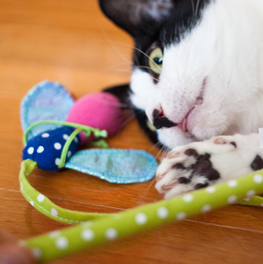 While it's hard to believe, the holiday season will soon be here, and most of us will have to adjust to life with frigid temperatures once again.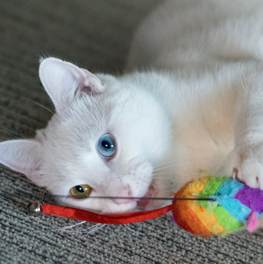 Between hiding, chomping, or just getting bored with them, your cat can never have enough toys.
Related Products
Perfect for batting around and chasing Midnight Crazies encourage and stimulate your cat's natural playful...
Contains a natural, yet potent combination of silver vine and catnip attractants to grab and...
Enchant your cat with a cuddly companion that's sure to magically spark energized play