Features
One-step assembly pop-up tent is purrfect for Kitty to hide, lounge, scratch and nap in
Features 2 dangling swat toys to promote exercise and mental stimulation
Tent includes 3 different windows (mesh and open) for a thrilling game of interactive peek-a-boo
Detachable scratcher helps stretch active muscles and maintain healthy nails
Ready for play right out of the box - no assembly required!
Exercise your cat's natural instincts to explore and thrive in the world around them with toys that stimulate all of their natural play needs
Where To Buy
Product Description
The Hartz Just For Cats Peek 'N Play is the purrfect pop-up hideaway for your furry friend. This unique activity center promotes both individual and interactive play. It includes two hanging toys for swatting, three holes for peeking, and a detachable crinkle mat for scratching. Best of all, there is NO assembly required. Great for multi-cat households.
Related Articles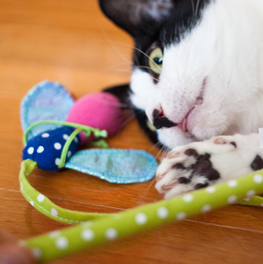 While it's hard to believe, the holiday season will soon be here, and most of us will have to adjust to life with frigid temperatures once again.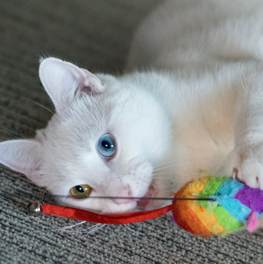 Between hiding, chomping, or just getting bored with them, your cat can never have enough toys.
Related Products
Your cat will get a terrific buzz from this swarm of friendly fliers that are...
Contains a natural, yet potent combination of silver vine and catnip attractants to grab and...
Perfect for batting around, chasing, and hunting, Bizzy Balls encourage and stimulate your cat's natural...