Features
Catnip stimulates your favorite feline to encourage play and increase exercise to inspire even the most inactive cats to play on all four paws
Includes 1 ounce of catnip that's been dried and processed for easy sprinkling or stuffing. Comes in a convenient, resealable pouch
Sprinkle on surfaces to attract your playful pal like scratchers, toys and bedding - cats won't be able to resist
The effects of catnip last between 10-20 minutes for a healthy play session
Where To Buy
Product Description
When Hartz 100% Catnip comes out, nap time is officially over. Made with just a single ingredient, it's just what your kitty needs for a super-charged play session. All natural, and non-toxic to pets, catnip mimics the stimulation your furry friend's ancestors experience from tracking down prey in the wild. A pinch of this irresistible nip goes a long way.
Sprinkle it on a scratcher, stuff inside a toy, or lightly dust your indoor cat's favorite lounging areas to spark a round of exercise.
Related Articles
health and nutrition | cats
If you are a cat owner, you and your feline friend are most likely familiar with catnip.
training and play
Not all cats respond to catnip, but those that do, exhibit a boundless joy.
Related Products
Exercise your cat's natural instincts to explore and thrive in the world around them with...
This dynamic duo combines two things cats love: mice and string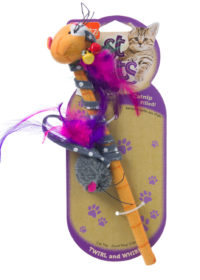 Your kitty companion won't be able to resist the urge to pounce when they spot...