Features
This dynamic character duo will make a super cute addition to your kitty's toy collection
Includes 2 plushy macaron mice adorned with jingly bells and expressive faces in an assortment of brightly colored pastels
Each critter is filled with a natural, yet potent combination of silver vine and catnip attractants to grab and hold your cat's attention for enhanced playtime
Lightweight and purrfectly sized for hours of cuddling and swatting
Silver Vine is a vine that grows in the high mountainous regions of eastern Asia. It produces a natural and effective cat attractant, that stimulates livelier play in more cats when compared to catnip alone
Exercise your cat's natural instincts to explore and thrive in the world around them with toys that stimulate all of their natural play needs
Where To Buy
Product Description
Reward your favorite feline with a faux dessert before dinner. The Macaron Mice™ cat toys are adorable plushy pastries affixed with jingly bells and expressive features. Lightweight and enticing to carry swat and bat, each critter is filled with a natural, yet potent combination of silver vine and catnip attractants to grab and hold your cat's attention.
Incorporate more activity into your kitty's day with this delicious duo, and you'll have the best 'sweet' in the house watching her roll, pounce and play!
Related Articles
training and play | cats
When was the last time you could honestly say that you had a grip on your cat's body language?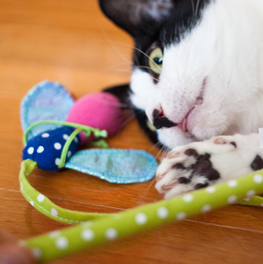 training and play | cats
While it's hard to believe, the holiday season will soon be here, and most of us will have to adjust to life with frigid temperatures once again.