Features
Lifelike bird plush features motion-activated chirping for a whole new level of fun and interaction
Plush is filled with enticing catnip and is designed with a plume of tail feathers to appeal to all your cat's senses
Satisfies predatory hunting instincts
Exercise your cat's natural instincts to explore and thrive in the world around them with toys that stimulate all of their natural play needs
Where To Buy
Product Description
With the Hartz Just For Cats Chirping Bird, feathers will be flying as your playful kitty indulges their natural instincts to hunt. This realistic bird brings the wild inside with lifelike features and coloring. Your cat's new feathered friend boasts motion-activated sounds, chip chirping on demand when batted or swatted.
Stuffed with premium catnip and donning a plume of fluttery feathers, this toy provides plenty of activity and exercise, plus special bonding time with your kitty companion.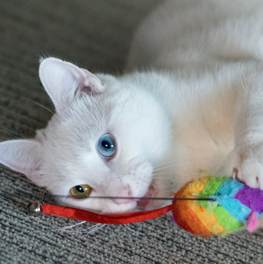 Between hiding, chomping, or just getting bored with them, your cat can never have enough toys.
With patience and practice, you can train your cat to become a world-class performer.
Related Products
Enchant your cat with a cuddly companion that's sure to magically spark energized play
Is your cat feeling 'grate'? They'll be even cheddar when playing with a toy that...
Packed with plenty of ways to play, Animal Pal Kicker™ appeals to your cat's ancestral...