Features
Surprise and delight your doggy with a toy that's just as ecstatic to play as they are
Includes 1 toy constructed from latex that provides excellent durability and resistance to chewing
Hilarious eye popping action when squeezed keeps dogs busy and pet parents laughing
Where To Buy
Product Description
Surprise and delight your doggy with a toy that's just as ecstatic to play as they are. With a squeeze or a bite, each crazy character's eyes amusingly pop out for unpredictable animation that will liven up any playtime session. Constructed from tough latex, Bug Eyes are durable and resistant to chewing and ruff-housing. Perfect for pet parents who want to get in on the action, or occupying pups in their free time, this toy is sure to raise eyebrows and inspire even the most inactive dogs to play on all four paws.
Related Articles
training & play | dogs
Back to work or school after the long summer? What are you going to do with your pooch?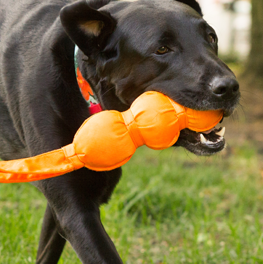 getting started | dogs
When you go to adopt your first dog, there are a few things you'll be leaving the animal shelter with. These include essentials like a leash and collar, as well as pet ID tags and perhaps a sleeve of tennis balls.
training and play | dogs
Keeping your dog's toys all together in a single place will make it easy for you to keep track of them. It will also make it easier to go through them on a regular basis and decide which need cleaning and which should be thrown away.
Related Products
A chew toy and treat all in one! Satisfy your dog's natural urge to chew...
Plush animal design is soft and cuddly with a squeaker hidden inside
Hartz Dura Play Boomerang dog toy is for dogs of all ages. A squeaky dog...