Features
Developed with pawfessional groomers to help keep nails trimmed to a healthy, comfortable length and features a quick-proof design with a built-in safety guard to prevent cutting the quick
Developed with pawfessional groomers to help keep nails trimmed to a healthy, comfortable length and features a quick-proof design with a built-in safety guard to prevent cutting the quick
Ergonomically designed handle allows for maximum comfort and control
Satisfaction Guaranteed
Where To Buy
Product Description
Your pet's paws will enjoy a little TLC with the Hartz Groomer's Best Nail Clipper. Developed with professional groomers, this tool is essential for regular maintenance to help keep nails trimmed to a healthy and comfortable length. When a cat or dog's nails grow too long, they are prone to splitting and breaking, which is not only painful, but can lead to infection.
Made with durable materials and hardware for regular use, the Hartz Nail Clipper accommodates all nail shapes and sizes with a contoured stainless steel blade. A built-in safety guard helps prevent the quick from being damaged, and an ergonomic shape maximizes control so you can perform pawdicures like a pro.
Related Articles
Grooming
Cats can spend hours grooming themselves, and for the most part, they do a pretty good job. However, there are some occasions that require a date with the bathtub!
grooming | dogs
Coat care basics include brushing, bathing, regular inspections and a healthy diet.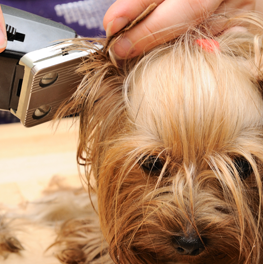 Grooming
For choosing the perfect dog clippers you will want to consider several attributes.
Related Products
3-in-1 solution is a quick and easy way to cleanse, freshen, and deodorize your dog's...
Specifically formulated to bring out the brilliance of white, silver and light colored coats while...