Features
Exterior is made of firm, natural latex for durability; interior uses foam technology for a chewier, bouncier toy with an irresistible squeaker
Includes a large version of our signature Dura Play Bone for dogs 50 pounds and over
Bacon scented to get your furry friend playing on all four paws
Soft and flexible to the touch and perfect for dogs of all ages, even senior dogs and teething puppies
Lightweight to throw, carry and bounce, Dura Play toys even float and are easy to clean
Where To Buy
Product Description
Feel the difference with Dura Play natural latex dog toys. Each toy provides long-lasting fun utilizing foam technology that enhances durability, creating an unmatched chew experience with an enticing bacon scent dogs go crazy for. Fun to throw and bounce, Dura Play toys even float and are easy to clean. Soft and flexible to the touch, each fun shape is perfect for dogs of all ages. Remember to supervise your pup with any toy.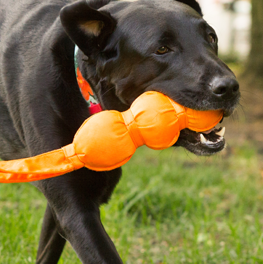 When you go to adopt your first dog, there are a few things you'll be leaving the animal shelter with. These include essentials like a leash and collar, as well as pet ID tags and perhaps a sleeve of tennis balls.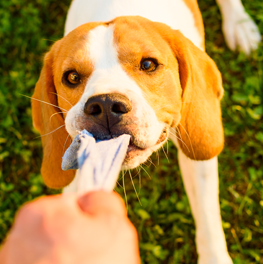 Games and play are a fun way to interact with your dog, but you need to play by the rules.
training & play | dogs
Back to work or school after the long summer? What are you going to do with your pooch?
Related Products
Combines a plush toy with a rope for tugging and tossing fun
Satisfy your dog's natural urge to chew while promoting the dental benefits of clean teeth...
Made for tough tuggers, this flexible flying disc is heavy-duty and lightweight for maximum air...