Features
Plush toy includes four squeakers and crinkly texture to engage your pal in play
Includes 1 elongated, stuffing-free critter (beaver, raccoon or fox) that's perfect for tugging, tossing or shaking, and comes with a fluffy tail to entice your playful pooch
Helps keep your canine companion entertained to prevent boredom, anxiety and destructive behavior
Keeps your dog pawsitively engaged with a variety of stimulating textures for solo play or interactive pet parent bonding time
Where To Buy
Product Description
A busy dog is a happy dog, and Hartz Squeakerz fit the bill for playful pups who crave an interactive experience. This long, woodland critter features four loud squeakers and a crinkly texture to cause instant tail wags. A fluffy tail is perfect for grabbing hold to toss, shake and tug whether your dog is playing solo or spending precious bonding time with you.
Soft and cuddly, Squeakerz also makes a great cuddle buddy during down time. Best of all, this toy contains no stuffing, which means less mess and less stress! Remember to supervise your pup with any toy.
Related Articles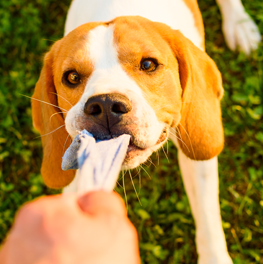 Games and play are a fun way to interact with your dog, but you need to play by the rules.
training and play
Keeping your dog's toys all together in a single place will make it easy for you to keep track of them. It will also make it easier to go through them on a regular basis and decide which need cleaning and which should be thrown away.
Training & Play
According to the ASPCA, 44% of all households in the United States have a dog, and 35% have a cat.
Related Products
Exterior is made of firm, natural latex for durability; interior uses foam technology for a...
A chew toy and treat all in one! Satisfy your dog's natural urge to chew...
Lifelike and loveable woodland animal plush toys each feature an interactive squeaker for a whole...