Features
Includes 3 monthly treatments in easy to apply, single dose tubes
Kills fleas, flea eggs and deer ticks, plus repels mosquitoes for 30 days
For use on cats and kittens 12 weeks and older weighing 5 pounds and over
Where To Buy
Product Description
Tell pesky parasites to 'bug off' with the Hartz UltraGuard Plus Flea & Tick Treatment for Cats and Kittens. Each convenient and easy to apply, single dose tube kills fleas, flea eggs and deer ticks, stopping the flea life cycle in its tracks. Also repels mosquitoes. Formula stays on and does not rub off. Use only on cats or kittens 5 pounds and over, 12 weeks of age and older. Package contains three applications—a three-month supply.
Directions For Use
Remove one applicator tube from package and hold in an upright position away from your face.

Pull off cap. Turn the cap around and place on top of tube.

Simply press cap down to break the seal of the tube and remove cap carefully.

Position the tip of the tube at the base of the pet's back between the shoulder blades and squeeze out the entire contents of the tube to form a stripe as you move from the shoulder blades along the back to the base of the tail. The treated area may appear oily after application.

Repeat every month.

Consult a veterinarian before using this product on debilitated, aged or medicated pets. If signs of sensitivity occur, bathe your pet with mild soap and rinse with large amount of water. If signs continue, consult a veterinarian immediately.
Related Articles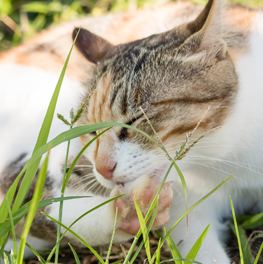 health & nutrition | cats
If fleas are on your cat, you can be sure that they are also in your home. There are three ways you can take fast action for flea control and prevention: immediate treatment, infestation control and infestation prevention.
parasite protection | cats
Ticks are parasites that will attach to both your cat as well as you. Like the flea, ticks must take a blood meal to survive. Here are some tick facts that will help you understand how to protect yourself and your cat.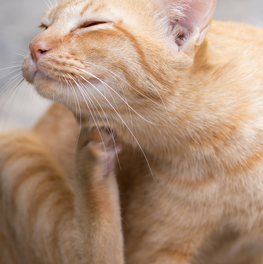 parasite protection
If you own a cat, you may experience a flea problem at some point. But what you don't know about fleas could harm you and your pet. Get the facts and keep your pet and home safe.
Related Products
Kills fleas and ticks, plus prevents re-infestation
A mild and effective method to remove roundworms from cats and kittens.
The patented and easy-to-use Pro-cision Flo™ angled applicator with rounded edges easily gets through cat's...